Product name: OF filter
Modle number: Mini type Midi type Maxi type
G1/8, G3/8, G3/4,
G1/4, G1/2, G1,
G3/8, G3/4
the regulator color: YELLOW, GREEN
thread: BSPT, BSP, NPT and so on

new type: OF, M5, (working pressure: 0~10bar)

OF filter

Introduction
The OF with water separator cleans the compressed air of fluid oil,lcondensation and dirt particles,for special application,the standard 40μm filter element may easily be replaced by 5μm filter element.

Symbol


Ordering Code

| | | | | |
| --- | --- | --- | --- | --- |
| OF | 1/4 | * | MINI | * |
| | | | | | | | | | |
| Model | Connection | Grade of filtration | Size | Condensate drain |
| | 1/8 1/4 3/8 1/2 3/4 1 | Blank:40μm 5M:5μm | MINI MIDI MAXI | Blank:Manual condensate drain |
| | | | | A:Automatic condensate drain |


Specification
Filters
MINI
MIDI
MAXI
40μm
Manual condensate drain
OF-1/8-MINI
OF-1/4-MINI
OF-3/8-MINI
OF-3/8-MIDI
OF-1/2-MIDI
OF-3/4-MIDI
OF3/4-MAXI
OF-1-MAXI
5μm
OF-1/8-5M-MINI
OF-1/4-5M-MINI
OF-3/8-5M-MINI
OF-3/8-5M-MIDI
OF-1/2-5M-MIDI
OF-3/4-5M-MIDI
OF-3/4-5,-MAXI
OF-1-5M-MAXI
40μm
Automatic condensate drain
OF-1/8-5M-MINI
OF-1/4-5M-MINI
OF-3/8-5M-MINI
OF-3/8-5M-MIDI
OF-1/2-5M-MIDI
OF-3/4-5M-MIDI
OF-3/4-5,-MAXI
OF-1-5M-MAXI
5μm
OF-1/8-5M-MINI-A
OF-1/4-5M-MINI-A
OF-3/8-5M-MINI-A
OF-3/8-5M-MIDI-A
OF-1/2-5M-MIDI-A
OF-3/4-5M-MIDI-A
OF-3/4-5M-MAXI-A
OF-1-5M-MAXI-A
Medium
Compressed Air
Features of structure
Sintered filter with water sparator
Mounting type
Pipe mounting or foot mounting
Assembly position
Vertical ±5°
Connection
G1/8
G1/4
G3/8
G3/8
G1/2
G3/4
G3/4
G1
Standard nominal flow rate
OU-…(-A)
1000
1200
1400
2700
3000
3000
5000
5000
OU-…-5M-(-A)
600
950
1100
1800
1900
1900
3200
3300
Working pressure
Manual condensate drain
Max:16bar
Automatic condensate drain
1.5~12bar
Grade of filtration
40μm/5μm
Max.condensate capacity
22ml
Temperature range
0~60℃
Materials information
Housing:Zinc die-casting;Filter bowl/oil bowl:PC;Metal bowl guard:Aluminium alloy;Sealing:NBR


Oerall Dimensions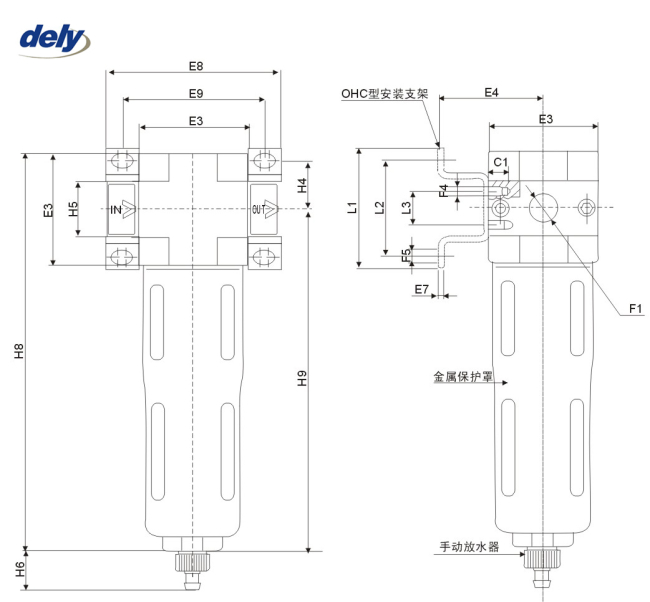 | | | | | | | |
| --- | --- | --- | --- | --- | --- | --- |
| Model | E3 | E4 | E7 | E8 | E9 | F1 |
| OF-…-MINI | 40 | 39 | 2 | 64 | 52 | G1/8/G1/4/G3/8 |
| OF-…-MIDI | 55 | 47 | 3 | 85 | 70 | G1/8/G1/2/G3/4 |
| OF-…-MAXI | 66 | 53 | 3 | 96/116 | 80/91 | G3/4/G1 |
| | | | | | | | | | | |
| --- | --- | --- | --- | --- | --- | --- | --- | --- | --- | --- |
| Model | F4 | F5Φ | L1 | L2 | L3 | H4 | H5 | H6 | H8 | H9 |
| OF-…-MINI | M4 | 4.5 | 44 | 35 | 11 | 17.5 | 20 | 15 | 144 | 129 |
| OF-…-MIDI | M5 | 5.5 | 71 | 60 | 22 | 24.5 | 32 | 15 | 179 | 156 |
| OF-…-MAXI | M5 | 5.5 | 71 | 60 | 22 | 24.5 | 32/40 | 15 | 203 | 175 |
A Festo type air filter refers to an air filter that is manufactured by Festo, a leading global supplier of pneumatic and electrical automation technology. Festo offers a wide range of air filters that are designed to remove impurities and contaminants from compressed air systems.
The Festo type air filters typically consist of the following components:
Filter housing: This is the outer casing of the air filter, usually made of durable materials such as aluminum or plastic. It houses the filter element and provides protection to the internal components.

Filter element: This is the core component of the air filter that traps and removes contaminants from the compressed air. Festo offers different types of filter elements, including standard paper filters, microfiber filters, and activated carbon filters, depending on the specific application requirements.

Inlet and outlet connections: The air filter has inlet and outlet ports for connecting to the compressed air system. Festo air filters may have threaded connections, push-in connections, or other types of fittings to ensure proper installation and compatibility with the system.

Drain mechanism: Many Festo air filters are equipped with a drain mechanism to remove accumulated moisture and condensate from the filter housing. This can be done manually or automatically, depending on the specific model.

Pressure gauge: Some Festo air filters come with an integrated pressure gauge that allows users to monitor the pressure drop across the filter element. This helps determine when the filter needs to be cleaned or replaced.




The benefits of using Festo type air filters include:




Improved air quality: The air filters effectively remove dust, dirt, oil, and other contaminants from the compressed air, ensuring clean and high-quality air for pneumatic systems and equipment.

Extended equipment life: By preventing contaminants from entering the system, Festo air filters help protect pneumatic components, such as valves and cylinders, from premature wear and damage, leading to longer equipment life.

Enhanced system performance: Clean air reduces the risk of clogged or malfunctioning pneumatic components, improving the overall performance and reliability of the system.

Easy maintenance: Festo air filters are designed for easy installation, maintenance, and replacement of filter elements, minimizing downtime and ensuring continuous operation of the compressed air system.




Overall, Festo type air filters are reliable and high-quality filtration solutions that play a crucial role in maintaining the cleanliness and efficiency of compressed air systems in various industrial applications.

Company Profile:

FENGHUA KAIYANG ELECTROMECHANICAL CO.,LTD. specailly manufacturer and market hydraulic ball valve,hydraulic fitting,pneumatic control element,air source units,pneumatic execute element and pneumatic assistant element.We have passed ISO9001:2000 quality system authentication.With advanced technology and equipment,good quality,our products sale far to many countries.In order to meet more and more customer's requirements.
We always stick to the enterprise spirit"Quality First,Good Serivice,Mutal Benefit"