Product name: OFR filter+regulater
Modle number: Mini type Midi type Maxi type
G1/8, G3/8, G3/4,
G1/4, G1/2, G1,
G3/8, G3/4
the regulator color: YELLOW, GREEN
thread: BSPT, BSP, NPT and so on

new type: OFR, M5. (working pressure: 0~10bar)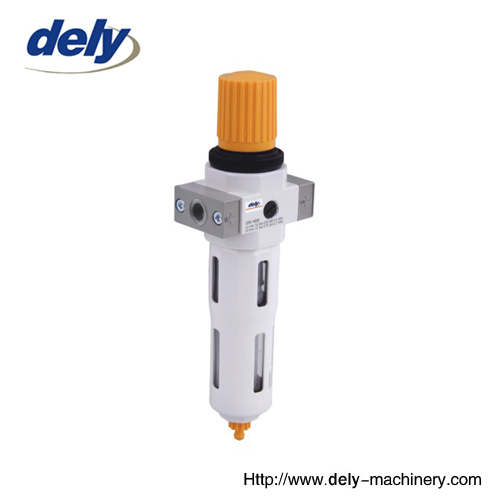 OFR filter+regulater
Introduction
Filter and pressure regulator combine a single unit,and cleans the compressed air of fluid oil,condensation and dirt particles.For special application,the sta ndard 40μm filter element may easily be replaced by a 5μm
filter element
The OR maintain im putting constant operating pressure despite fluctuation in line pressure and the amount of air consumed.

Symbol




Ordering Code

| | | | | | |
| --- | --- | --- | --- | --- | --- |
| OFR | 1/4 | * | * | MINI | * |
| | | | | | | | | | | | |
| Model | Connection | Grade of filtration | Manomter | Size | Drain way |
| | 1/8 1/4 3/8 1/2 3/4 1 | Blank:40μm 5M:5μm | Blank:12bar 7:7bar | MINI MIDI MAXI | Blank:Manual condensate drain |
| | | | | | A:Automatic condensate drain |

Specification

Service units
MINI
MIDI
MAXI
Manual condensate drain
Working pressure: 12bar,40μm
OFR-1/8-MINI
OFR-1/4-MINI
OFR-3/8-MINI
OFR-3/8-MIDI
OFR-1/2-MIDI
OFR-3/4-MIDI
OFR-3/4-MAXI
OFR-1-MAXI
Working pressure: 7bar,40μm
OFR-1/8-7-MINI
OFR-1/4-D-7-MINI
OFR-3/8-7-MINI
OFR-3/8-7-MIDI
OFR-1/2-7-MIDI
OFR-3/4-7-MIDI
OFR-3/4-7-MAXI
OFR-1-7-MAXI
Working pressure: 12bar,5μm
OFR-1/8-5M-MINI
OFR-1/4-5M-MINI
OFR-3/8-5M-MINI
OFR-3/8-5M-MIDI
OFR-1/2-5M-MIDI
OFR-3/4-5M-MIDI
OFR-3/4-5,-MAXI
OFR-1-5M-MAXI
Automatic condensate drain
Working pressure: 12bar,40μm
OFR-1/8-MINI-A
OFR-1/4-MINI-A
OFR-3/8-MINI-A
OFR-3/8-MIDI-A
OFR-1/2-MIDI-A
OFR-3/4-MIDI-A
OFR-3/4-MAXI-A
OFR-1-MAXI-A
Working pressure: 7bar,40μm
OFR-1/8-7-MINI-A
OFR-1/4-D-7-MINI-A
OFR-3/8-7-MINI-A
OFR-3/8-7-MIDI-A
OFR-1/2-7-MIDI-A
OFR-3/4-7-MIDI-A
OFR-3/4-7-MAXI-A
OFR-1-7-MAXI-A
Working pressure: 12bar,5μm
OFR-1/8-5M-MINI-A
OFR-1/4-5M-MINI-A
OFR-3/8-5M-MINI-A
OFR-3/8-5M-MIDI-A
OFR-1/2-5M-MIDI-A
OFR-3/4-5M-MIDI-A
OFR-3/4-5M-MAXI-A
OFR-1-5M-MAXI-A
Manometer
0~12bar
OMA-40-16-1/8
OMA-50-16-1/4
0~7bar
OMA-40-10-1/8
OMA-50-10-1/4
Medium
Compressed Air
Features of structure
Sintered filter with water sparator;MINI/MIDI:Diaphragm type regulator;MAX:Piston type regulator
Mounting type
Pipe mounting or foot mounting
Assembly position
Vertical ±5°
Connection
G1/8
G1/4
G3/8
G3/8
G1/2
G3/4
G3/4
G1
Standard nominal flow rate
OFR-…(-A)
750
1400
1600
3100
3400
3400
9000
10000
OFR-…-7-(-A)
900
1500
1700
3400
3900
4000
9500
16000
OFR-…-5M-(-A)
650
1200
1350
2400
2500
2600
7300
7600
Primary pressure
Manual condensate drain
1~16bar
Automatic condensate drain
1.5~12bar
Working pressure
0.5~12bar/0.5~7bar
Grade of filtration
40μm/5μm
Capacity of condensate fluid
22ml
Temperature range
0~60℃
Materials information
Housing:Zinc die-casting;Filter bowl/oil bowl:PC;Metal bowl guard:Aluminium alloy;Sealing:NBR;Adjusting knob:POM

Overall Dimensions

| | | | | | | | | |
| --- | --- | --- | --- | --- | --- | --- | --- | --- |
| Model | E3 | E4 | E5 | E6 | E8 | E9 | F1 | F2 |
| OFR-…-MINI | 40 | 39 | 76 | 95 | 64 | 52 | G1/8/G1/4/G3/8 | M36X1.5 |
| OFR-…-MIDI | 55 | 47 | 93 | 112 | 85 | 70 | G1/8/G1/2/G3/4 | M52X1.5 |
| OFR-…-MAXI | 66 | 53 | 104 | 124 | 96/116 | 90/90 | G3/4/G1 | M36X1.5 |
| | | | | | | | | | | | | |
| --- | --- | --- | --- | --- | --- | --- | --- | --- | --- | --- | --- | --- |
| Model | F3Φ | F4 | F5Φ | F6Φ | L1 | L2 | L3 | H1 | H3 | H4 | H5 | H6 |
| OFR-…-MINI | 31 | M4 | 4.5 | 40 | 44 | 35 | 11 | 194 | 69 | 17.5 | 20 | 15 |
| OFR-…-MIDI | 50 | M5 | 5.5 | 52 | 71 | 60 | 22 | 250 | 98 | 24.5 | 32 | 15 |
| OFR-…-MAXI | 31 | M5 | 5.5 | 63 | 71 | 60 | 22 | 252 | 80 | 24.5 | 32/40 | 15 |
An air filter is a device that removes impurities from the air, improving its quality and cleanliness. It is commonly used in HVAC (heating, ventilation, and air conditioning) systems, as well as in various other applications.
The main purpose of an air filter is to capture and trap particles, such as dust, pollen, pet dander, mold spores, and other airborne contaminants. This helps to improve indoor air quality and prevent these particles from circulating in the air and being inhaled by occupants.
Air filters typically consist of a fibrous or porous material, such as fiberglass, pleated paper, or synthetic fibers, that allows air to pass through while capturing particles. The material is designed to have a high surface area, maximizing the filter's efficiency in capturing contaminants.
Air filters are rated based on their efficiency in removing particles of different sizes, measured in terms of the filter's Minimum Efficiency Reporting Value (MERV). Higher MERV ratings indicate a greater ability to capture smaller particles.
Regular maintenance and replacement of air filters are important to ensure their effectiveness. Over time, filters become clogged with captured particles, reducing airflow and efficiency. Most filters need to be replaced every few months, although this can vary depending on the type of filter and the level of air pollution in the environment.
In addition to improving indoor air quality, air filters also help to protect HVAC equipment by preventing the buildup of dust and debris on components, which can reduce efficiency and lead to system malfunctions.
Overall, air filters play a crucial role in maintaining clean and healthy indoor air, and they are commonly used in residential, commercial, and industrial settings.
Company Profile:

FENGHUA KAIYANG ELECTROMECHANICAL CO.,LTD. specailly manufacturer and market hydraulic ball valve,hydraulic fitting,pneumatic control element,air source units,pneumatic execute element and pneumatic assistant element.We have passed ISO9001:2000 quality system authentication.With advanced technology and equipment,good quality,our products sale far to many countries.In order to meet more and more customer's requirements.
We always stick to the enterprise spirit"Quality First,Good Serivice,Mutal Benefit"